Outpatient Surgery of Penile Venous Stripping
Pertinent questions have been raised by both colleagues and patients regarding this procedure and its differences vis-à-vis more conventional (and long since abandoned) penile surgeries. One concern is that the surgery is too invasive; however, we would respond to this concern by pointing out that all patients can resume their daily activities—even traveling long distances—immediately following the operation. A second concern is that the surgery could lead to excessive loss of blood. Although during the procedure the count of ligatures may reach as high as 132, the blood loss is negligible because the attending surgeon is required to have a strong command of fixing every emissary vein at the outer tunica albuginea, such that all cavernosal blood would be confined to the corpus cavernosum (which consequently becomes the most ideal milieu for applying Pascal's law). Therefore, neither a Bovie nor suction apparatus is required.  For prospective patients or physicians who remain skeptical, we invite you to read through our publications, watch our available videos, and review our successful results, as seeing is believing, and experience speaks volumes.
patients
Patients who suffer from erectile dysfunction for at least 6 months, i.e. a dysfunction which is diagnosed as of "venogenic" origin, are good candidates for this operation. Diagnosis requires a dual pharmaco-cavernosography(Fig 1),
1-8
a prostaglandin-E1 test and a thorough medical history of the patient. In our clinical experience, the majority of patients with erectile dysfunction are good candidates for surgery since they are more often than not victims of venous leakage, a fact that is commensurate with other studies in which venogenic contributor plays a predominant role in impotence,
9-11
although a patient's suitability for the surgery is, of course, carefully addressed in our practice. Patients who are vulnerable to a chronic systemic disease are advised not to undergo this operation.

The first set of cavernosograms, which provides an instructive view of the penile venous anatomy12-16 is performed immediately before the 10-20 μg prostaglandin E1 (test) is injected intra-cavernously. Both the deep dorsal vein (double-headed arrow) and the cavernosal vein (curved arrow) are readily visible. The notch-like appearance of the para-arterial vein is noticeable in the distal portion of the penis. Also note the scalp needle in situ.
The second set of films is finished 30 minutes later. Note that the deep dorsal vein (double-headed arrow) is opacified despite the existing rigid erection. The cavernosal vein (arrowheads), although much smaller, is very close to the sinusoids because of its exceptional proximity to the tunica albuginea.
Topical block of a proximal dorsal nerve block, injection of the lateral aspect of penile crus, pubic and ventral infiltration with a 0.8%, 50 mL lidocaine solution, which is prepared in an aseptic steel bowl, pre-rinsed with epinephrine, via a 10 mL syringe. For more information, please refer to the page on local anesthesia.
(Patients, please note that—if you are skeptical of the efficacy of local anethesia—general anesthesia may also be administered at your discretion.)
Operations (Fig. 2)19
A longitudinal public incision (Fig. 2A) twice as long as the diameter of the proximal penile shaft is made. Blunt dissection is performed to enter Colles' fascia. The space created must be as distal and lateral as possible to free the penile shaft partially (yet should not result in a complete separation of the layered tissue). The entire penis is then released with an inside-out maneuver (Fig. 2B). Alternatively the initial approach is an additional circumcision of the patients with redundant foreskin or a semi-circumferential incision for obese patients with a body mass index (BMI) exceeding 30. The incision was made for better management of the retrocoronal plexus, the circumflex veins of the DDV and CV, and the penile shaft after a degloving maneuver of those tissues superficial to the Buck's fascia. A milking maneuver (Fig. 2C) is helpful in vascular differentiation. The deep dorsal vein is stripped thoroughly and ligated with a 6-0 nylon, as close to the tunica albuginea as possible, distally to the level of the retrocoronal sulcus, where the number of veinlets may number as many as 29. A pull-through maneuver (Fig. 2D) of the deep dorsal vein system is made step-by-step with the trunk of the deep dorsal vein serving as a guide when Buck's fascia is intermittently opened over the deep dorsal vein as it is dissected along the shaft—in order to minimize tissue damage, the vein is passed from opening to opening during the entire venous stripping procedure instead of making a complete opening on Buck's fascia (Fig. 2E). After the penile shaft is returned to its original position, the gauge dressing (Fig. 2F) is immediately applied in order to encircle the penile shaft and prevent further bleeding. The suspensory ligament is separated medially proximal until the level of the infrapubic angle is encountered. Likewise, the cavernosal veins are stripped as deeply as possible to the arcuate ligament (Fig. 2G), although surgeons are warned that this step is especially challenging. The para-arterial veins can be ligated rather than stripped segmentally. Finally, the bi-lateral crural veins are treated and the bulbospongiosus muscle is identified. In proximity to this muscle are one or two huge crural veins. If encountered, these may be ligated. The wound is closed with 5-0 catgut or 6-0 nylon sutures while the penis is stretched as much as possible by an assistant's hand (Fig. 2H). At last, a compression dressing is placed to encircle the penile shaft, which the patient should wear for one week postoperatively. In our experience, a total of 76 to 132 ligature sites are required to complete the procedure.
A set of immediately postoperative cavernosography has been routinely obtained for ascertaining sound removal of offensive veins since 2013.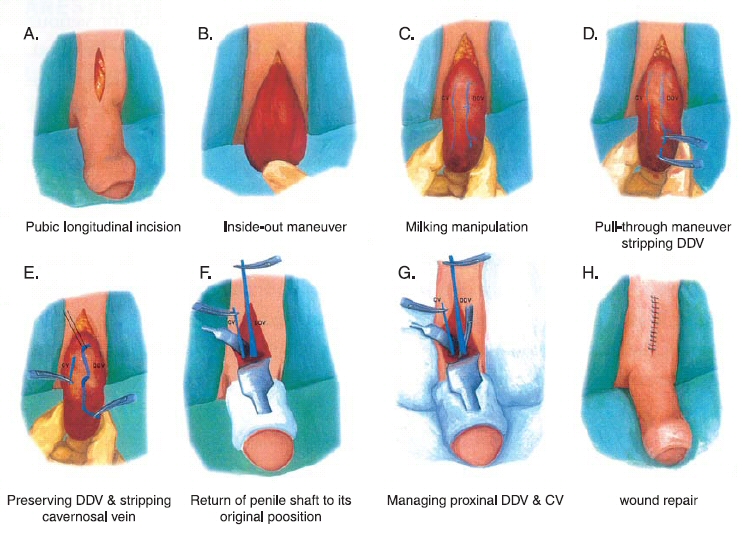 A longitudinal incision is made in the pubic area, 3.5 cm in length.
An inside-out maneuver is made to release the pendulous portion of the penis.
A milking manipulation (squeezing the sinusoids and venous plexus) is very helpful in enhancing the visibility of the vein (the dark, engcomed vein revealed after both the overlying Buck's fascia and the perivascular sheath are meticulously opened) and the retrocoronal level on which 5-8 smaller veins always coalesce to turn into the main trunk of the dorsal vein.
A pull-through maneuver (to be done, usually, 3 to 5 times) of the stripped vein is then carried out. Step by step, openings which are appropriate at the exit of the circumflex vein, rather than complete openings, are made on Buck's fascia.
Likewise, the cavernosal vein is stripped.
After the penile shaft is returned to its original position, a compression dressing with gauze is made encircling the penile shaft to prevent further oozing. The trunk of the deep dorsal vein serves as a guide to strip the venous plexus until the infrapubic angle is met. A depth of 3 inches is usually encountered. A right-angle retractor, with a 3 1/4×5/8 inch blade, is therefore mandatory. After the deep dorsal vein plexus is stripped, a prominent cavernosal plexus should likewise be removed. However, the para-arterial vein can only be treated segmentally. All the erection-related veins should therefore be stripped as much as possible while avoiding iatrogenic damage to any other tissue except the vein. To retain the medial separation, instead of causing a severance, a blunt dissection is recommended.
In managing the deep-seated veins it is crucial to use a hemostate mosquito with a round and blunt tip. Otherwise, uncontrollable bleeding will ensue. A 6-0 nylon suture is likewise used.
If necessary, a 6-0 nylon suture or a 5-0 chromic suture is applied for skin repair.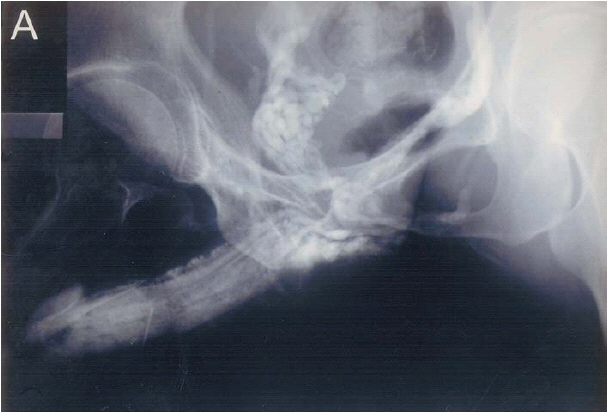 Pre-operative film discloses a prominent deep dorsal vein, a cavernosal vein, and a para-arterial vein. Note the significant drainage in the internal pudendal vein.
After these erection-related veins were removed, the superficial vein (triangles) and the bulbourethral vein (white arrows) became conspicuous. The penile crus (asterisk) is readily distended. Following the operation, the erectile capability is considerably improved.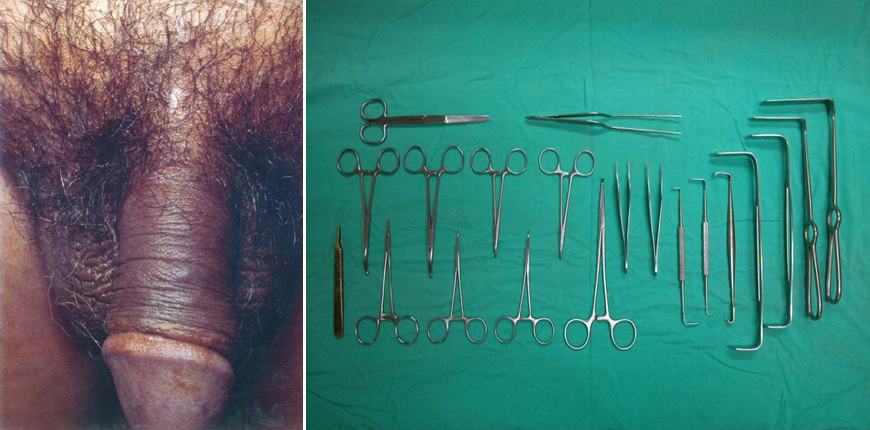 Figure 4. Photographs of a 46-year-old patient (left) received our venous stripping with a longitudinal pubic incision one year ago. The negligible scar behind the bush-like pubic hair is not easily identifiable. The patient told me that his wife had tried hard and in vain to find the scar. A set of essential instrument (right) is deemed required in this surgical treatment. Note that the right angle of several retractors with long blade and several mosquito hemostats with pretreated tip via #0 sand paper. Microsurgical instruments are too sharp to avoid damage to vessel wall.
Research and Development
A set of specific instrument (Figure 4) was developed for making this challenging surgery in 1993, a sufficient operation was otherwise not reachable. Meanwhile the penile anatomy had been our urgent concern because its traditional description was unable to explain some question such as palpable rigid structure inside the penis and penile venous system.20,21 During 1999, 35 returning patients underwent cavernosography4 again because of the gradual decrease in the erectile capability that they developed in a period of 6 months to 7 years postoperatively. Imaging demonstrated some excessive cavernosal and para-arterial veins, which are further confirmed in cadaveric dissections. De novo discovery of penile venous anatomy (Figure 5) was subsequently made. It was based on the convention one in which one single deep dorsal vein was consistently described. By that time, the revolutionary conception of erection-related veins in the human penis was accepted as a blueprint for venous surgery. discrimination between the borders of the upper and lower margins of the symphysis pubis. Finally, the ability to palpate the ischial tuberosity is required.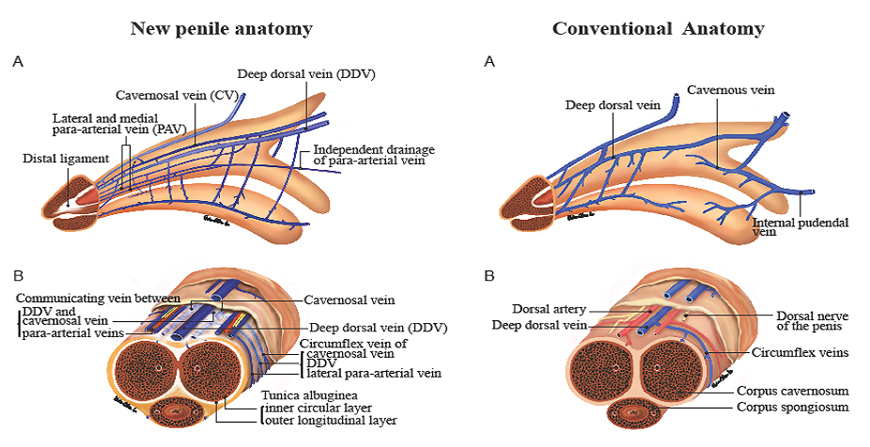 Lateral View. The deep dorsal vein, which is consistently in the median position, receives the blood of emissary veins from the corpora cavernosa and of circumflex veins from the corpus spongiosum. It is sandwiched in by cavernosal veins, although these lie in a deeper position. Bilaterally, each dorsal artery is sandwiched in by its corresponding medial and lateral para-arterial veins, respectively. Note that the lateral para-arterial vein merges with the medial one proximally.
Cross-section of the Mid-portion. Note that the number of veins is seven, suggesting a complexity that a traditional understanding of the venous system (which only takes into consideration a single DDV, right side A and B are for comparison with that in left ones respectively) fails to reflect.
Our newest illustration of the penile venous anatomy is categorically sustainable. We consider not only the traditional deep dorsal vein to be significant, but also the cavernosal vein, which is distributed through most of the entire penile length, and the para-arterial veins. The deep dorsal vein that lies consistently in the median position receives blood from circumflex veins of the corpus spongiosum and from emissary veins of the corpora cavernosa. It is sandwiched in by cavernosal veins that are coalesced to one at penile base. Bilaterally, each dorsal artery is sandwiched in by the medial and lateral para-arterial vein respectively. The subtunical venular plexus collects sinusoidal blood—the origin of the emissary veins. Interestingly, in our study the majority of the emissary veins were often found to run in an oblique path between the inner and outer layers of the tunica albuginea, whereas the arteries took a more direct route through the tunica. Thus, the vein plays a passive yet overwhelmingly important role in erectile function.
An Anatomy-physiology-based Penile Venous Stripping Surgery (USPTO patent version) and Penile Morphology Reconstruction
Recent studies substantiate a model of the tunica albuginea of the corpora cavernosa as a bi-layered structure with a 360° complete inner circular layer and a 300° incomplete outer longitudinal coat spanning from the bulbospongiosus and ischiocavernosus proximally and extending continuously into the distal ligament within the glans penis. The anatomical location and histology of the distal ligament invites convincing parallels with the quadrupedal os penis22 and therefore constitutes potential evidence of the evolutionary process. In the corpora cavernosa, a chamber design is responsible for facilitating rigid erections. For investigating its venous factors exclusively, hemodynamic studies have been performed on both fresh and defrosted human male cadavers. In each case, a rigid erection was unequivocally attainable following venous removal. This clearly has significant ramifications in relation to penile venous surgery and its role in treating impotent patients. One deep dorsal vein, two cavernosal veins and two pairs of para-arterial veins (as opposed to one single vein) are situated between Buck's fascia and the tunica albuginea. These newfound insights into penile tunical anatomy, venous anatomy and erection physiology were inspired by and – in turn – enhance clinical applications routinely encountered by physicians and surgeons, such as penile morphological reconstruction, penile implantation and penile venous surgery.
Accordingly not only the most advanced version of penile venous stripping, using circumferential and longitudinal pubic approaches, granted a patent issued by the united states patent and trade office on August 14, 2012 (Figure 6 illustration only),23 but also, an additional corporoplasty24 or even a true penile enhancement resulting from corporeal augmentation by adding autologous venous wall to tunica albuginea,25 can be simultaneously attainable. A representative application is shown via cavernosography (Figure 7) rather than an ongoing surgery. Albeit its technique is challenging, its relevant surgical solutions are feasible. It is seemingly that PVSS is an exclusively viable option on medical refractory impotent patient who seek a natural way of erection restoration. In order to provide the most robust evidence (level 1) and reproduce more surgeons, we are looking forward to launching a randomized controlled clinical trial for it.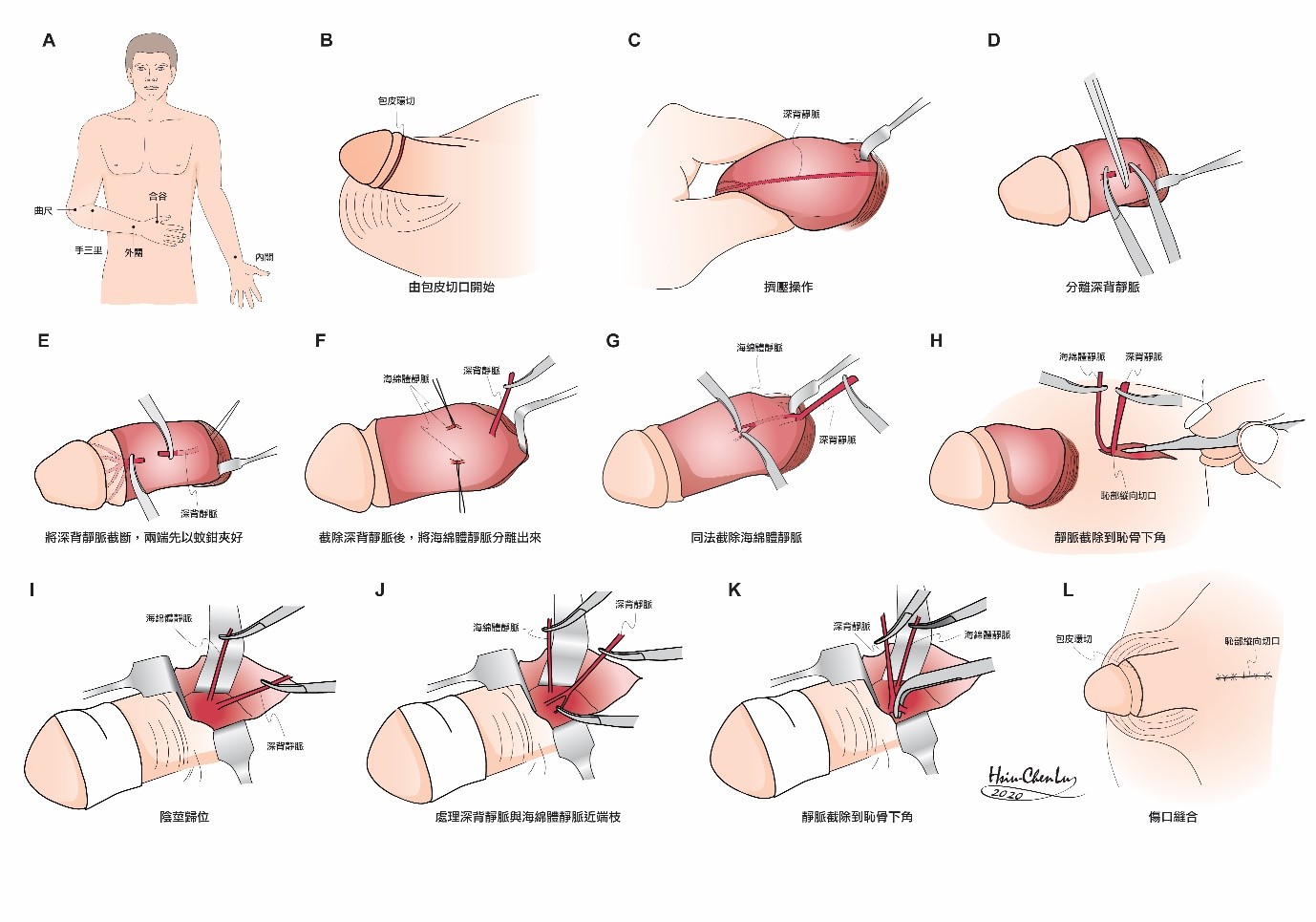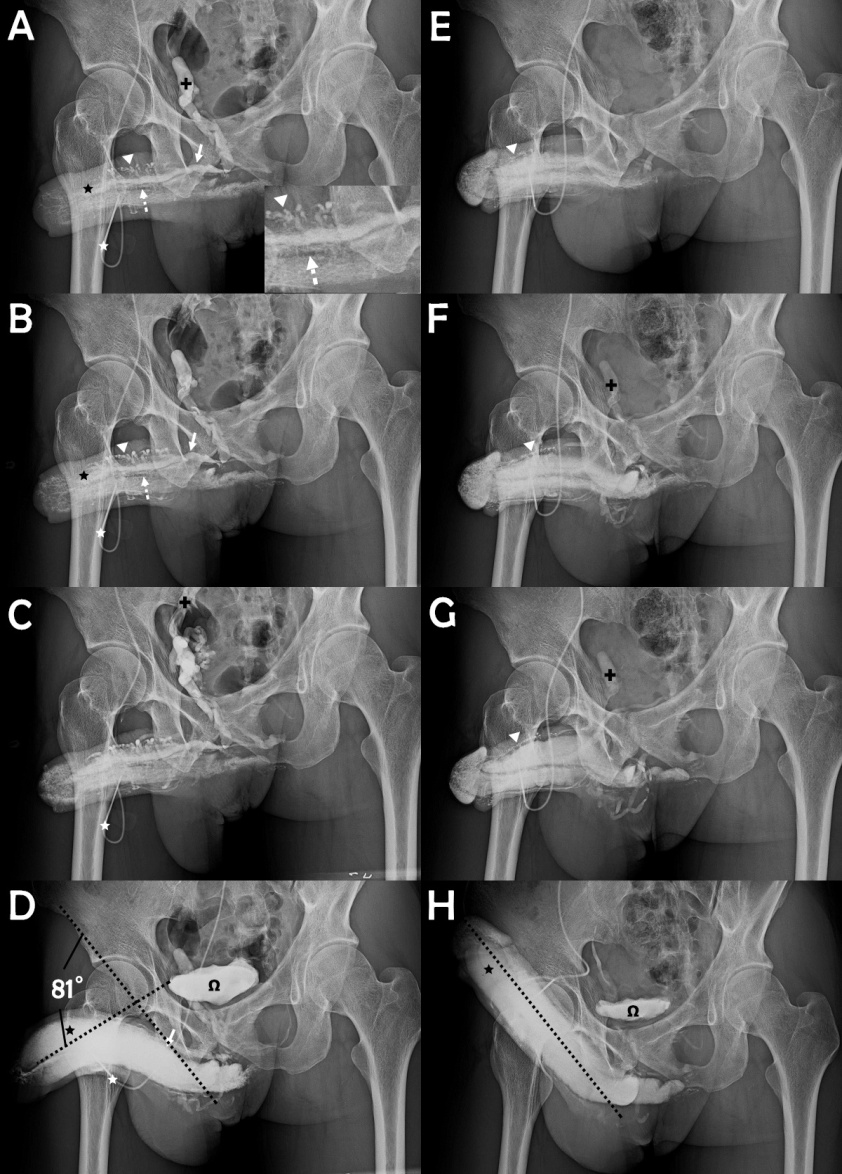 The cavernosogram was taken immediately after the intracavernous injection of 50% Omnipaque solution into the sinusoids (black asterisk) of the corpora cavernosa (CC) via a #19 scalp needle (white asterisk). The deep dorsal vein (white arrow) was demonstrated along with the cavernosal veins (CVs, dotted arrow) under beneath, whereas the para-arterial veins (PAVs, white arrowhead) was shown in a zigzag appearance. The internal pudendal vein (black cross) presented rapidly. Photo of magnification inserted.
As the injection (white asterisk) keep going both DDV (white arrow)、CVs (dotted arrow)、PAVs (white arrowhead) and CC (black asterisk) pronounced.
The injected Omnipaque solution drained rapidly back to the level of internal iliac vein (arrow) which continues the internal pudendal vein.
The film was taken 15 to 30 minutes later after the injection of 10-20 μg prostaglandin E1. The presentation of DDV (white arrow) documented the venous leakage in spite of the rigid erection while the urinary bladder (omega) was shown. A penile deviation of 81 degrees is estimated.
This film was made with similar condition of that in panel A one year after this surgery, the CC (black asterisk) was readily inflated, while neither the DDV (white arrow) nor the CVs (dotted arrow) presented, but smaller PAVs (white arrowhead) showed.
Likewise comparing with that in panel B, there is no more leaky veins because the presentation of the internal pudendal vein (black cross) was minimal.
For comparison with panel C, the internal iliac vein (black cross) was attended. H. A full erection was readily induced after an injection of 10-20 μg prostaglandin E1. The CC (black asterisk) and u-bladder (omega) were inflated as comparing with panel D. The penile shape goes straight, seemly an ideal erection angle (dotted line) which is good to sustain a buckling pressure.
Frequently Asked Questions
Many people have questioned us about the absolute, positive outcome of this surgery, since, in response to a meta-analysis of the literature, the clinical guidelines panel of the American Urological Association roundly dismissed venous surgery as a routine treatment for ED, asserting that the procedure at best results in short-term performance gains.26 Already notorious for its impermanence, the venous operation was almost completely abandoned. Contrary the received medical wisdom, we recommend the type of surgery we debuted in 1986 after repeated clinical and cadaveric studies27-30 and microsurgical training on rats.31 The incision is small and delicate. The technical training of the surgeons and the assistants is second to none. From June 1986 to May 1987, 23 of 31 patients who underwent venous stripping were available for a follow-up. After 17 years, 12 of them still enjoy a normal sexual life, despite the fact that the operation was at the time based on traditional illustrations of the penile venous system. Although those illustrations are still used by some other doctors, our practice benefited immensely the latter part of 1999 when a revolutionary understanding of the distribution of the veins (Figure 5) was conceived and subsequently used as the blueprint for our venous surgery operations. Since, under this blueprint, a greater number of veins must be removed, the sites of ligation vary from 76 to 132 ligatures. Following the above procedure, the success rate of the surgery improved from 74.5% to 90.9%.13 Given these outstanding results, we are very excited about this operation. While our surgery bears the same name as the rejected procedures of the past, it is based on an entirely different method. Some may say that our claim is too good to be true, but it is in fact accurate. We reviewed the literature and noted that, since 1988, an obvious venous leakage has been consistently found to be the major cause of ED in over 90% of the impotent population. Recently, we reported a hemodynamic study on seven fresh human cadavers and found that reaching a rigid erection was, without exception, attainable after the erection-related veins were removed in all subjects despite the fact that their sinusoidal tissues were not alive.27-30 This suggests that a fully rigid erection may depend upon the drainage veins as well, rather than just the intra-cavernosal smooth muscle or fibrous tissue. We believe that penile venous stripping surgery deserves another look, and that it may be justified if and only if thoroughly and properly performed, i.e. with complete venous removal but without the expense of tissue damage. We urge any and all specialists to personally witness the operations we perform, to examine the clinical results, and to determine for themselves the validity of our claims.
Many patients have asked about the cause of the veno-occlusive dysfunction. It is difficult to offer an exact answer since we have little experimental data on its mechanism. We believe, however, that an aging process and a congenital factor cannot be ruled out. Younger patients are not immune to venous leakage. Many engcomed veins are always shown in a cavernosogram and not vice versa on the younger post-operative patients. Younger males are not necessarily gifted with potency, and old men are not necessarily cursed with impotence.
Routinely, a longitudinal incision is made and is twice as long as the diameter of the proximal penile shaft. It is difficult to find the post-operative scar as it is conveniently hidden behind the bush-like pubic hair. Some surgeons may comment that it is not accessible because this type of wound limits its exposure and that it will, in turn, decrease the operational accessibility of some vessels, but in considering the best available knowledge of the lymphatic system in the exogenitalia, the most feasible incision to make is a longitudinal one. Otherwise, greater damage to the lymphatic vessel will most certainly ensue and induce penile edema. A good command of microsurgical technique is an essential prerequisite to ensure the surgeon's competence in operating in a small milieu—an excessively large incision will cause iatrogenic trauma and possible hypertrophied scar24 to the delicate portion of the penis.
The essential instruments include a round head baby mosquito hemostate, pre-treated with sand-paper, and two right angle retractors with blades sufficiently long to reach the deepest parts of the penile anatomy during the operation. The essential instruments should be sufficiently delicate to peel off the perivascular sheath while leaving the thin venous wall intact—indeed, such delicate tissue requires delicate tools. Performing the surgery may be compared to repairing a hemorrhagic watch.
Physiologically, the penis requires around 2 mL/min of blood for its metabolism. This may, however, increase to 60 to 80 mL/min with a difference of 30 to 40 times when an erection occurs. Thus, a massive hemorrhage may in theory force the surgeon to apply a Bovie or a suction apparatus when its presence prevents the operation's continuation—in reality, however, it is possible to control the bleeding via manual manipulation as the penis is a protruded coman. During the operation neither a Bovie nor a suction apparatus is necessary to minimize tissue trauma.12-15
The ligation sites can reach as high as 132 after the offending veins are stripped. Thus a successful operation on this erectile coman might be much more difficult than for any other type of modern surgery. Therefore, practicing microsurgical drills on a small rat is mandatory before the operation is initiated on a patient,31 residual veins deemed ensue otherwise.32
Patients are instructed to perform post-operative pelvic floor exercises daily. With the combination of forced exhalation, anal constriction and penile stretching, a pull-back force against the glans penis signifies the correct response.
There is a dogmatic conviction that recipients of penile venous surgery show early signs of improved performance but at some point experience decline that ultimately leaves their erection quality in its pre-operative state. For our surgery, on the contrary, outcomes could only be perfectly assessed 0.5-2 years after the operation as many men reported a total recovery in erectile capability 2 years after the operation. Recently a comparative anatomy study of dog and a human being was conducted and similar histology was concluded. Thus, to properly account for observed recovery times, the time for a follow-up shall be sufficiently long.14,15
We are concerned about the distribution of impotence severity in our patients. We find that the majority of impotence cases should be ascribed to venous incompetence. To the best of our knowledge the traditional anatomy has shown that there are two end-artery comans in the human body—the retina and kidney—but we think that the sinusoids of the corpora cavernosa, the corpus spongiosum and the glans penis should also be added to the list. Whereas the retina works during daytime and the kidney 24 hours a day, the corpora cavernosa always rests. Thus, the sinusoids are inactive most of the time. No wonder that there is little chance for penile artery requiring trouble-shooting. The majority of patients are those males who sustain early detumescence and then insufficient rigidity rather than a complete loss of erectile function of sinusoids. Thus, most of them are those whose erectile capability can be most succinctly described as follows: "erection without rigidity and rigid erection without durability."
As a Chinese proverb asserts, "You shall follow a dog if you marry a dog, and you shall follow a chicken if you marry a chicken," meaning that sexual behaviors between species differ. It is not uncommon to deal with a man of primary impotence who can only maintain a rigid erection for several minutes. This type of patient develops an intractable early ejaculation. Although he has an intact artery, nerves as well as healthy sinusoids, his erection-related veins are tremendously numerous and diagnosed as incompetent. Fortunately, we can alter this embarrassing situation with venous stripping surgery. This implies that a congenital factor does play an important role in this matter.
Many patients report that the oral medication Sildenafil is a satisfactory solution. For many patients, unfortunately, its effectiveness gradually decreases. Nonetheless, we recognize that the introduction of this drug is a great event in medical history. We have reviewed the pharmacocavernosograms of thousands patients who used to take Sildenafil. In them, 95% have experienced typical "venous leakage" versus 75% before the availability of this drug. Shall we infer that a high blood flow imposed on venous intima during coitus with Sildenafil or prostaglandin E1 may further speed up venous drainage? No wonder that some of our patients who underwent a venectomy are non-responders to oral Sildenafil pre-operatively. Further scientific research is warranted. Interestingly, however, a combination of penile venous surgery and oral Sildenafil has consistently been found to be an effective treatment for erectile dysfunction.33 After the venous stripping procedure is performed, the blood circulation of the glans penis is limited to the corpus spongiosum. Therefore, patients usually experience gradually engcomed glans. In 1996, one 53-year old patient (who is also a surgeon) joked with me, wondering if his glans will explode 4 years after the operation. This casual conversation should not bother any patient; the effect in question is best regarded as a "bonus" of this surgery.16
Many patients have expressed their concerns about the amount of blood loss during this operation, but they may rest assured that it is negligible—recall that neither a Bovie34 nor a suction apparatus are required in this procedure; blood loss is small enough that it can be controlled through manual manipulation. However, a surgeon must be careful in controlling the bleeding since the blood may obscure visibility and prevent him from proceeding continuously. This type of operation can also be carried out in an ambulance under acupuncture-assisted local anesthesia, although the surgery typically takes from 2 to 6 hours.
Could the patient undergo a penile implant after this treatment if it is not satisfactory? The short answer is yes. Venous surgery is a natural treatment in which no synthetic material is added. Since 1995 we have used 6-0 nylon suture to tie those tissues whenever necessary; consequently, the suture granuloma that previously palpated as a pearl-like nodule has disappeared. Thus, the tissue is rendered almost unchanged in its layered nature. Viz., penile implantation is of course feasible if the post-operative result is not satisfactory.
The patient may sustain some pain post-operatively as the anesthetic lasts no longer than 4 hours. Oral analgesics can alleviate this unpleasant feeling; unfortunately, it cannot eliminate the discomfort evoked by nocturnal penile tumescence (NPT)—while patients do experience negligible daytime pain in the 24 hours following the operation, NPT pain can take as many as 2 to 3 weeks to resolve and disrupts the patient's sleep. NPT pain is resistant to painkillers, but it is up to the patient to decide whether oral analgesics help and, if so, when they ought to be discontinued.
Post-operative resumption of coitus is prohibited for 3 weeks. In 1995, a patient who rushed to resume coitus on the fifth post-operative day complained that his exciting erectile miracle did not reappear until 2 months later. We insist that just as stepping on cement is unwise until it has dried completely; the operated penis likewise requires a proper recovery period. A normal erection cannot take place until the tunica albuginea is sufficiently softened, so it is possible that a patient may feel that his erection is perfect 10 months later since the tissue recovery takes longer.
This surgery takes us 3 to 6 hours. To avoid the inconvenience resulting from urination during an operation, the patient is asked to be in a state of NPO (nothing per os) at least 8 hours before the surgery, although it is exclusively a local anesthesia operation performed on an out-patient basis.
After a venous stripping of the offending veins, a patient might experience poor sleep as a result of nocturnal penile tumescence which is initially painful but also a good sign of healthy erectile capability. We offer as consolation an old Chinese proverb: "You will be the man above all others if you can tolerate the tough events that are intolerable to others."
To reiterate a point made above, this operation takes 3 to 6 hours. The patient should therefore inform the surgeon at any time should he require a repositioning of his body in order to lie comfortably and adjust to a more relaxed position. Otherwise, any minute body movement by the patient can cause an unnecessary inconvenience to the operation.
It is feasible to remove stitches one week after the operation. It will not be necessary in the case of a chromic suture since it will be absorbed spontaneously.
Circumcision may be simultaneously performed. A difficulty in dressing as well as a swelling foreskin might occur if a redundant foreskin exists. Since the penis is anesthetized, circumcision should present no problems for the patient.
Why this surgery treatment is sustainable? Nowadays, it is a common belief that CVOD is an effect rather than a cause of ED.35,36 Is the belief sustainable? Though our chronological studies, penile anatomy might speak volumes. The outer longitudinal tunical layer seems to play an essential role in veno-occlusive function. Our method of closing the offensive veins closest to this anatomical structure is a viable option on ambulatory basis.37-39
References
Hsu GL, Hill JW, Chen HS, Huang SJ. Novel pilot films providing a dispensable information in pharmaco-cavernosography. Transl Androl Urol 2014; 4(4): 398-405. doi: 10.3978/j.issn.2223-4683.2014.03.03 (Correspondent and Principal author)

Tsai TC, Hsu GL, Chen SC et al: Analysis of the results of reconstructive surgery for vasculogenic impotence. J Formos Med Assoc 1988; 87: 182-187. (principal author)

Chen SC, Hsieh CH, Hsu GL, Wang CJ, Wen HS, Ling PY, Huang HM, Tseng GF. The progression of the penile vein: could it be recurrent? J Androl 2005; 26 :56-63. (correspondent, principal author).

Hsu GL, Hsieh CH, Wen HS, Chen YC, Chen SC and Mok MS: Penile venous Anatomy: An additional description and its clinical implication. J Androl 2003; 24: 921-927. (Correspondent and Principal author)

Hsu GL, Hsieh CH, Wen HS, Chiang HS. Penile Venous Anatomy: Applications for Erectile Disturbance. Asian J Androl. 2002; 4: 61-66. (Principal author)

Hsu GL. Hsieh CH. Wen HS. Chen YC. Liu LJ. Kang TJ. Yang SD. Chiang HS. Penile enhancement: an outpatient technique. Eur J Med Sex. 2002; 11: 6-10. (Correspondent and Principal author)

Hsu GL: The hypothesis of human penile anatomy, erection hemodynamic and their clinical applications. Asian J Androl 2006; 8:225-234. (Invited)
Hsu GL, Chen HS, Hsieh CH, Chen RM, Wen HS Liu LJ and Chua C. Long-term result of an autologous venous grafting for penile morphological reconstruction. J Androl 2007; 28: 186-193. (Correspondent and Principal author)
Fuchs AM, Mehringer CM & Rajfer J: Anatomy of penile venous drainage in potent and impotent men during cavernosography. J Urol 1989; 141: 1353-2356.

Chen KK, Chen MT, Lo KY, Chang LS. Dynamic infusion cavernosometry and cavernosography (DICC) in the evaluation of vasculogenic impotence. Chung Hua i Hsueh Tsa Chih - Chinese Med J. 1996; 57: 266.

Elhanbly S, Abdel-Gaber S, Fathy H, El-Bayoumi Y, Wald M & Niederberger CS: Erectile dysfunction in smoker: A penile dynamic and vascular study. J Androl 2004; 25: 991-995.

Hsu GL, Hsieh CH, Wen HS, Hsieh JT and Chiang HS. Outpatient surgery for penile venous patch with the patient under local anesthesia. J Androl 2003; 24: 35-39. (Correspondent and Principal author)

Hsu GL, Chen HS, Hsieh CH, Lee WY, Chen KL and Chang CH. J Androl 2010; 31: 271-280. (Correspondent and Principal author)

Hsu GL, Chen HS, Hsieh CH, Lee WY, Chen KL and Chang CH. Salvaging Penile Venous Stripping Surgery. J Androl 2010; 31: 250-260. (Correspondent and Principal author)

Molodysky E , Liu SP, Hsu GL. Penile vascular surgery for treatment of erectile dysfunction: Current role and future direction. Arab J Urol 2013, 11: 254-266. http://dx.doi.com/10.1016/j.aju.2013.05.001 (Invited, principal author, correspondent).

Hsu GL, Hill JW, Hsieh CH, Liu SP and Hsu CY. Venous ligation: A novel strategy for glans enhancement in penile prosthesis implantation. BioMed Research International Volume 2014, Article ID 923171, 7 pages http://dx.doi.com/10.1155/2014/923171 (Correspondent and Principal author)

Hsu GL, Hsieh CH, Chen HS, Ling PY, Wen HS, Huang HM, Liu LJ, Chen CW, and Chua c. The Advancement of Pure Local Anesthesia for Penile Surgeries: Can an Outpatient Basis be Sustainable? J Androl 2007; 28: 200-205. (Correspondent and Principal author)

Hsu GL, Hsieh CH and Chen SC. Human penile tunica albuginea: Anatomy discovery, functional evidence and role in reconstructive and implant surgery. Glo. Adv. Res. J. Med. Med. Sci. 2014; 3: 400-407. (Invited, correspondent and Principal author)

Hsu GL, Chen HS, Huang SJ. A Physiological Approach to a Penile Venous Stripping Surgical Procedure for Patients with Erectile Dysfunction. Transl Med 2013; 3: 117-124. doi:10.4172/2161-1025.1000117 (Correspondent and Principal author)

Hsieh CH, Liu SP, Hsu GL Chen HS, Molodysky E, Chen YH, Yu HJ. Advances in our understanding of mammalian penile evolution, human penile anatomy and human erection physiology: Clinical implications for physicians and surgeons. Med Sci Monit. 2012; 18: RA118-125. (Correspondent and Principal author).

Hsu GL. Hsieh CH. Wen HS, Hsu WL and Chen CW: Anatomy of the human penis: The relationship of the architecture between skeletal and smooth muscles. J Androl 2004 25: 426-431. (Correspondent and Principal author)

Hsu GL, Lin CW, Hsieh CH, Hsieh JT, Chen SC, Kuo TF, Ling PY, Huang HM, Wang CJ, Tseng GF. Distal ligament in human glans: a comparative study of penile architecture.J Androl 2005; 26: 624-628. (Correspondent and Principal author)

Hsu GL. "Physiological approach to penile venous stripping surgical procedure for patients with erectile dysfunction (Patent No.: US 8,240,313, B2). "http://www.google.com/patents/US20110271966.

Hsu GL, Molodysky E, Liu SP, Chang HC, Hsieh CH, Hsu CY: Reconstructive surgery for idealizing penile shape and erectile functional restoration on patients with penile dysmorphology and erectile dysfunction. Arab J Urol 2013; 11:375–383. (Correspondent and Principal author)
Hsu GL, Molodysky E, Liu SP, Hsieh CH, Chen HC, Chen YH. A Combination of Penile Venous Stripping, Tunical Surgery and Varicocelectomy for Patients with Erectile Dysfunction, Penile Dysmorphology and Varicocele under Acupuncture-aided Local Anesthesia on Ambulatory Basis. Surgery: current research 2013, S12: 008. doi:10.4172/2161-1076.S12-008 (Correspondent and Principal author)
Montague DK, Barada JH, Belker AM et al: Clinical guidelines panel on erectile dysfunction: summary report on the treatment of comanic erectile dysfunction. J Urol 1996; 156: 2007-2011.

Tsai TC, Hsu GL, Chen SC, Wang CL, Chen CL. Clinical significance of anatomy of penile deep dorsal vein. Taiwan I Hsueh Hui Tsa Chih - Journal of the Formosan Medical Association. 87: 1187-1190, 1988. (Principal author)

Hsieh CH, Wang CJ, Hsu GL, Chen SC, Ling PY, Wang T, Fong TH, Tseng GF. Penile veins play a pivotal role in erection: the hemodynamic evidence. Int J Androl 2005; 28:88-92. (Correspondent and principal author).

Hsu GL, Hung YP, Tsai MH, Hsieh CH, Chen HS, Molodysky E, Huynh CC, and Yu HJ. Penile veins are the principal component in erectile rigidity: a study of penile venous stripping on defrosted human cadavers, J Androl. 2012, 33:1176-1185. (Correspondent and Principal author)

Hsu GL, Huang YP, Tsai MH, Chang HC, Liu SP, Molodysky E, Hsu MCY. : The venous drainage of the corpora cavernosa in the human penis, Arab J Urol 2013; 11: 384-391. http://dx.doi.com/10.1016/j.aju.2013.04.002 (Correspondent and Principal author)

Hsu GL. Hsieh CH. eds. A laboratory manual for potency microsurgery. 1st ed. Taipei: MPRC, TMUH, February, 2003.

Hsu GL, Chen HS, Hsieh CH, Ling PL, Wen HS, Liu LJ, Chen CW and Liu MW. Insufficient response to venous surgery: is penile vein recurrent or residual? J Androl 2006; 27: 700-706. (Correspondent and Principal author)
Wen HS, Hsieh CH, Hsu GL, Kao YC, Ling PY, Huang HM, Wang CY and Einhorn EF: The synergism of penile venous surgery and oral sildenafil in treating patients with erectile dysfunction. Int J Androl. 2005; 28: 297-303. (correspondent and principal author)
Hsu GL, Hsieh CH, Wen HS, Hsu WL, Chen YC, Chen RM, Chen SC, Hsieh JT. The effect of electrocoagulation on the sinusoids in the human penis. J Androl 2004; 25: 954-959. (Correspondent and Principal author)

Shafik A, Shafik I, El Sibai O, Shafik AA. On the pathogenesis of penile venous leakage: role of the tunica albuginea. BMC Urol 2007; 7: 14.

Hellstrom WJ, Montague DK, Moncada I, Carson C, Minhas S et al. Implants, mechanical devices, and vascular surgery for erectile dysfunction. J Sex Med 2010; 7: 501-523.
Hsieh CH, Huang YP, Tsai MH, Chen HS, Huang PC, Lin CW, Hsu GL: Tunical Outer Layer Plays an Essential Role in Penile veno-occlusive Mechanism Evidenced from Electrocautery Effects to the Corpora Cavernosa in Defrosted Human Cadavers. Urology, 2015; 86: 1129-1136. (Correspondent and principal author)
Hsieh CH. Hsu GL: Current Role of Vascular Surgery (Arterial and Venous) in Erectile Dysfunction. In: International book of erectile dysfunction, 1st ed. Edited by Djordjevic, M. L. and Martins F. E. New York: Nova Publisher, chapt. 9, pp. xxx-xxx (Invited, Correspondent and Principal author)

Hsu GL, Zaid UX, Hsieh CH, Huang SJ. Acupuncture assisted regional anesthesia for penile surgeries. Transl Androl Urol 2013;2(4):291-300. doi: 10.3978/ j.issn.2223-4683.2013.12.02 (Invited, Correspondent and Principal author)
Hsieh CH, Tai HC, Hsu GL, Chen CC and Hsu CY: Herb formula enhances treatment of impotent patients after penile venous stripping, a randomized clinical trial. Andrologia 2016, volume 48, issue 7 page 754-760. (Correspondent and principal author)。 Download PDF
Images on this webpage are licensed under a
CC Attribution-ShareAlike 4.0 International License
.