About
physician profile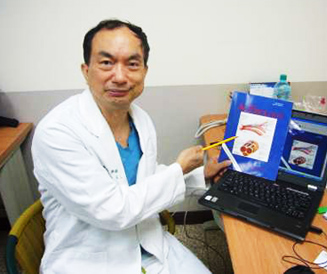 Geng-Long Hsu, M.D.
Owner of Hsu`s Andrology
Director, Microsurgical Potency Reconstruction and Research Center
Taipei, Taiwan
Education
Department of Industrial Management,
National Cheng-Kung University,
September 1973 - June 1978
Department of Medicine,
National Taiwan University,
September 1978 - June 1985
Urological Department, Post-doctoral Research Fellow, University of California, San Francisco,
June 1991 - April 1992
Prizes and Awards
ISIR (International Society of Impotence Research.) Jean-Paul Ginestie Prize&Herbert Newman Prize (null was cited), V World Meeting on Impotence, September 13-18, 1992 Milano, Italy. [The three dimensional structure of the human tunica albuginea at an anatomical and ultrastructural level.]
ASA Lalor International Travel Award, 2005, Seattle, Washington, USA
Award for basic research of Taiwan Andrology Association, 2005.
Award for clinical application of Taiwan Andrology Association, 2007.
CURy (The 3rd World Congress on Controversies in Urology) Best Abstract Award, Second prize, in Athens, Greece, February 25-28, 2010 [Penile veins are the Determining Contributor for Erection: The Hemodynamic Evidence from the Study in Defrosted Human Cadavers.].
Best poster prize, the 18th annual meeting (2012) and 34th general scientific meeting, Taiwan Urological Association, Taipei, Taiwan.
Second prize of Video urology, the 18th annual meeting (2012) and 34th general scientific meeting, Taiwan Urological Association, Taipei, Taiwan.
ISSM (The International Society of Sexual Medicine): Zcomniotti Newman Prize, 22nd World Meeting on Sexual Medicine, November 19-21, 2021 Virtual. [The Penile Fibro-vascular Assembly is the last Remaining Independent Vascular Compartment to be elucidated in the Human Body].
Membership
Taiwan Urological Association
Taiwan Andrology Association
Taiwan Medical Association
International Society of Sexual and Impotence Research
American Society of Andrology
Experience
View Dr. Hsu's CV
we have more than 30 years of experience
Erectile dysfunction (ED) is found in all societies and affects millions of men throughout the world. Clinical breakthroughs in urological medicine—such as the introduction of phosphodiesterase-5 inhibitors, including sildenafil (Viagra), tadalafil (Cialis) and vardenafil (Levitra)—undoubtedly helped a significant number of these men; for many patients, unfortunately, ED persists even with the use of these drugs. A universal solution to ED remains out of reach. Nevertheless, we state categorically that the most viable solution for a majority of ED patients is available in the form of microsurgeries. They are both examinable and reproducible, although the methods are admittedly challenging.
Prospective patients—we understand some of you may be skeptical about the efficacy of local anesthesia. Please rest assured that standard general anesthesia may be administered at your discretion.
We began to successfully apply pure local anesthesia for penile implantation procedures on an outpatient basis in 1987. A similar technique was derived and extended to other type of penile surgeries afterwards. We were approached by a successful international businessman who had been bothered by erectile dysfunction for seven years and who had already consulted many credible physicians whom consistently recommended penile implantation. Amazingly, his prolonged condition was corrected by venous stripping surgery and high ligation of both internal spermatic veins, under local anesthesia and on an outpatient basis—indeed, he was able to fly out the following day, a fact that astonished the physician who subsequently cared for the wound. We found that local anesthesia is suitable not only for this procedure but also for other types of penile operations, including penile implant surgery of every type. Ever since this revelation, a pure local anesthesia administered on a true outpatient basis has been applied consistently and without exception. Given the fast pace and immediate demands of modern society, this method is overwhelmingly welcomed.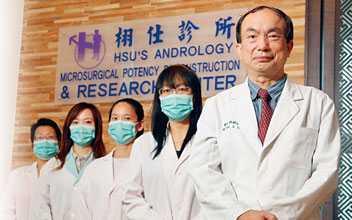 As a case in point, we have developed and performed over 3,000 cases of penile venous stripping surgery since June 1986—both with and without venous grafting for morphologic correction—under local anesthesia and on a true outpatient basis, without exception. In fact, we are able to complete this operation in less than 6 hours. Both penile prosthesis implants (which we have performed on 201 patients) and curvature correction procedures (which we have performed on 736 patients) can be completed in a similar time frame. As a result, patients are able to receive treatment on impotence and enjoy sightseeing during the same period.
Our efficiency in treating ED using microsurgery is matched by efficacy; fellow urologists may be surprised by this claim given the checkered history of penile venous stripping surgery. The first reported instance of penile venous surgery took place over a century ago. Wooten first published "Ligation of the deep dorsal vein for atonic impotence" in the Texas Medical Journal in 1902. Early successes were met with an optimism that gradually diminished in light of the limited durability of the outcomes. Indeed, continued disappointment in the results of such procedures culminated in the 1996 ruling by the clinical guidelines panel of the American Urological Association (AUA) that venous and arterial surgeries for the purpose of treating erectile dysfunction are not justified in routine use. As such, these procedures have been almost entirely abandoned by the majority of the medical community.
Undaunted, and supported by recent advancements in research on penile hemodynamics and anatomy, we continued exploring and refining techniques in penile venous stripping surgery; after repeated microsurgical training exercises (conducted on small rats and on cadavers), we developed a surgery in which neither a Bovie nor a suction apparatus is necessary. With our unique methods, we have achieved a 90.9% success rate in dramatically improving the erectile function of our patients. We are confident that our success is reproducible, and we request that any physician interested in this field take the time to thoroughly research this procedure and exhort the urological community as a whole to accept venous surgery as a viable, long-term solution for patients suffering from ED.
Do you suffer from ED? Are you seeking a long-term cure?
Contact Us